Patients want to find an experienced surgeon that they are comfortable with and have a good reputation for excellent results. Not all plastic and cosmetic surgeons are the same. Plastic surgeons and cosmetic surgeons have varying degrees of training and experience. There are similarities with plastic surgeons and cosmetic surgeons, but their training is different. Plastic surgeon's have broader training but less focused on elective, cosmetic surgery.
Cosmetic surgeon's training is focuses exclusively to elective, cosmetic surgery that is completely focused on enhancing and improving a patient's physical appearance. Cosmetic surgery is all about beauty, appeal, balance, symmetry and proportion. A cosmetic surgeon spends all of their training on elective procedures for breast procedures, liposuction, tummy tucks, face lifts, various elective face surgeries and enhancements, as well as other cosmetic procedures.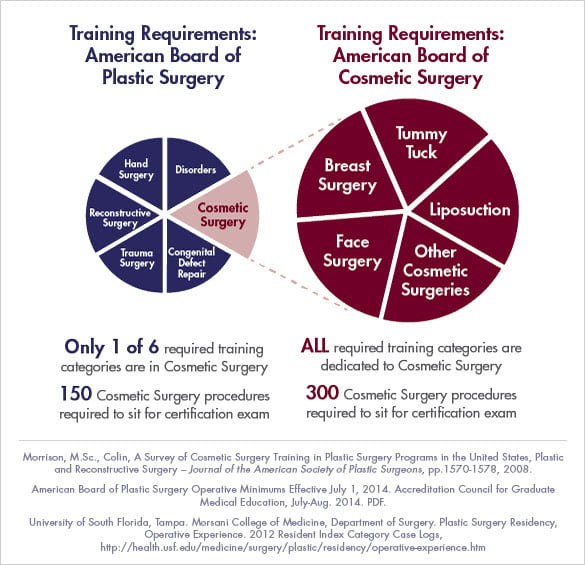 Plastic surgery is a much broader discipline that covers non-cosmetic procedures such as: hand surgery, trauma, congenital defects, reconstructive surgery and cosmetic surgery. Plastic surgery is defined as a surgical specialty committed to reconstructive surgery due to trauma, burns, birth disorders and even disease. Plastic surgery will attempt to repair flawed and dysfunctional areas of the body and is reconstructive. This is not to say that plastic surgeons are not cosmetic surgeons but the training and breadth of the two specialties is different.
Training requirements for plastic surgeons and cosmetic surgeons seeking board certification to their respective societies is different in both scope and experience. ALL board-certified cosmetic surgeons must complete over 300 cosmetic surgery cases to sit for the board certification exam. The American Board of Plastic Surgery requires only 150 cosmetic surgery procedures to sit for the certification exam.
The training, knowledge and experience to become a board-certified cosmetic surgeon requires a level of specialization that is more robust than the requirements for plastic surgery.
Any licensed physician can legally perform cosmetic surgery even if they have not received specific cosmetic surgery training. There are doctors, in an effort to drive more cash revenue, have diversified away from their training and experience to engage in elective cosmetic surgery. These doctors may be family practitioners, bariatric or general surgeons but, lack any specific training in cosmetic surgery. This is why it is important to do your research and learn about a doctor's qualifications. Patients should inquire about a doctor's overall training, board certification, experience, number of procedures with respect to the specific area of cosmetic surgery or aesthetics.
Request a Consultation
We continue to offer complimentary consultation appointments. It couldn't be easier to start your cosmetic journey!